Canada Zinc: Right Time, Right Metal
February 28, 2017 01:23 PM
[node:field_image:alt]
321 Gold founder Bob Moriarty turns his attention to Canada Zinc, a company that has a giant zinc deposit in northern British Columbia.
In 2013 I wrote about an interesting company named Canada Zinc (CZX-V) with a giant zinc deposit in Northern British Columbia that had $6 billion worth of silver, lead and zinc in the ground. The company had an absurd market cap of $31 million while they had $15 million in cash. They were $0.22 a share. Yawn, yawn.
I covered them again a year later as they climbed to $0.38 a share. Nothing much had changed in a year but Teck and Korea Zinc did option three of Canada Zinc's projects. The big zinc companies have been saying for years that there was a big shortage of zinc production right around the corner. Yawn, yawn.
So why should you consider buying a stock that has done little for three years? Actually that's exactly why you should buy them.
The company slowed down, preserved capital and slowly moved the premier project, the Akie property, forward. The stock did collapse with the rest of the resource world as commodities in general cratered in early 2016 at 5,000-year lows. Starting in April of 2016 the company began to climb out of the hole at $0.095 to a high of $0.48 in November as the market began to take the actual shortage of zinc production seriously.
Canada Zinc is as close to a zero brainer as you will find in the resource world. They tout an 8.1 million ton inferred resource of $225.48 rock. That's USD not the Canadian pesos.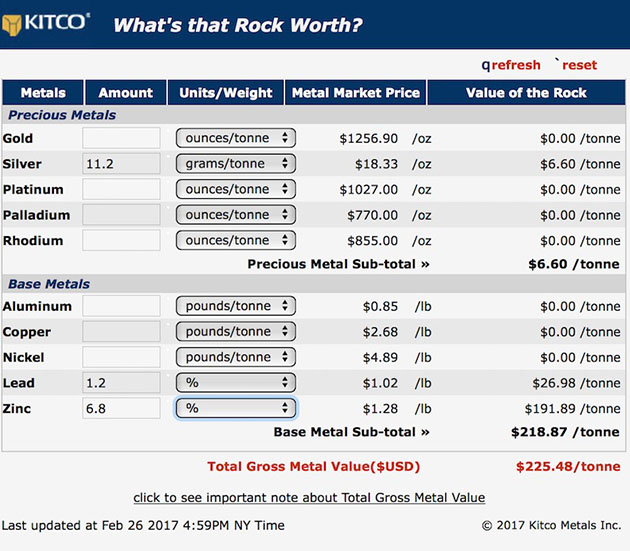 If you multiply the tons in the ground by value of the rock and adjust it for the Canadian currency that's $2.4 billion dollars worth of rock in the ground for a company with a $55 million market cap. It works out to $14.94 in metal per share of Canada Zinc. But it gets worse.
The company has 19.6 tons of $275.39 rock USD in the indicated category. That has a gross metal value in the ground of $7.01 billion and $44.16 CAD per share of CZX.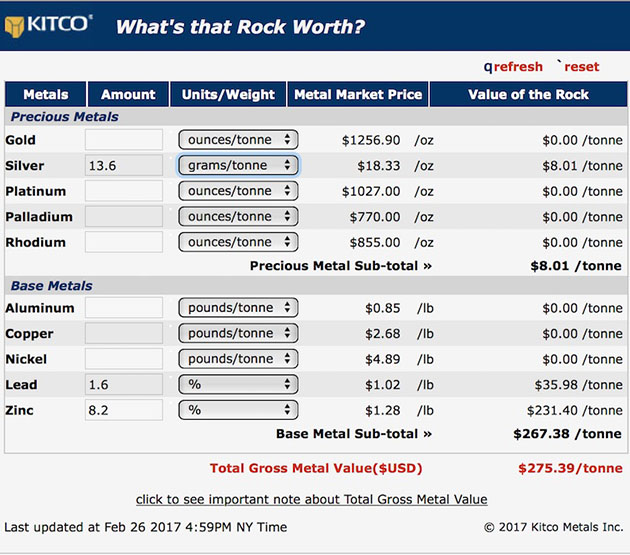 About the Author