Assessing the short-term outlook for the precious metals and the miners
October 4, 2016 03:32 PM
The Commercials appear to have been quite busy since the Federal Reserve abandoned the rate cut idea; they capped the post FOMC rally in gold at $1,340 and having closed the month of August at $1,311.40, September's closing settlement at $1,317.10 was a fairly anemic showing given that we just went through the best-performing month of the year. I don't bother posting the silver COT because it's always a JP Morgan slugfest riddled with little subtlety and an ample dollop of fraudulent activity.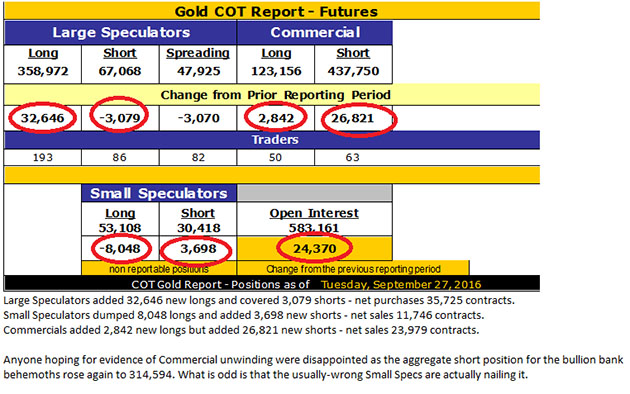 The miners have had a pretty stiff correction and actually closed out the month a tad better than one might have expected given the gold price action. I bought the GDXJ (VanEck Vectors Junior Gold Miners ETF) November $55 calls in mid-August (WAY too early) but then added the November $45 at the end, but the GDXJ calls are going to need a big move in the underlying ETF for me to pull a rabbit out of the hat. In fact, I am doubled up on the ETF and leveraged and I am offside about $4 per share on the non-core holding while the core bought in late 2015 is veritably free. As I spoke about in an earlier missive, I need to see the HUI (NYSE Arca Gold BUGS Index) hold 230 and the GDXJ must hold $41.76 (the end-of-August intraday low) or I will be forced to throw them overboard and replace the hedges lifted in mid-August.
The U.S. political race, being about as ugly as one can ever recall, will surely have the US Dollar Index weaving back and forth all month and polls will surely be heeded closely. The Syrian situation is getting a tad hairy and the Deutsche Bank gong show continues to roil all markets with every sound bite emanating from the mouths of the ECB snapperheads. The GDXJ, representing the junior gold miners, has been a standout all year but I can't and won't let the big gains evaporate. I would rather get whipsawed on a reversal than sit by aimlessly while it heads down another 15% to the 200-dma. I'm using the $41.76 level as a point under which I will place the stop loss order ($41.50).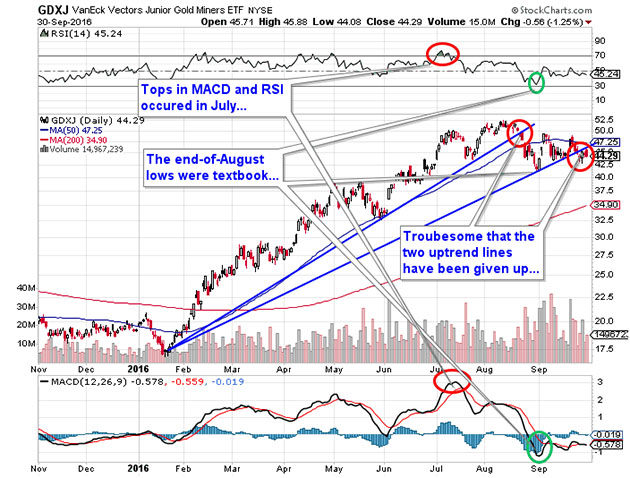 About the Author